The 2nd Annual Tiny House Expo & Conference at the Fresno Fall Home Improvement Show!
SPONSORDED BY NATURES HEAD®
With an increase of paid attendance to over 11,000 homeowners and tiny house enthusiasts at the 2018 show, we are excited and busy planning for the 2019 Expo! The 2nd Annual Tiny House Expo will have the latest leaders in the industry educating us through the Seminar Series to be held in Bldg. #4.
*Click on Show Information for Admission times and pricing
Testimonials from two Tiny Home Builders & Exhibitors~

"I attended the 32nd annual Fresno Home and Garden Show in March where I was a vendor of their Tiny House Village. Laurie from Fresno Shows was fantastic to work with. The event was very well attended with thousands of visitors from all over the state of California. I received lots of potential leads, as a matter of fact, my phone is still ringing from attendees from the show and my presence on Fresno Shows website. I am excited to be participating once again in Fresno Shows Tiny House Expo in November." Andrew from Seabreeze Tiny Homes

"I have been a participant in the Fresno Shows a couple times and have been very impressed. Thousands of attendees from all over the State of California have walked through our Tiny Houses and we continue to receive calls from them. Fresno Shows does an excellent job in organizing the Tiny House Village/Expo and managing the traffic flow. Fresno is THEE place to show off your Tiny House as it was the very first city in the nation to legalize them. I would highly recommend Fresno Shows for showcasing your Tiny House." Nick Mosley from California Tiny House, VP of Tiny House Association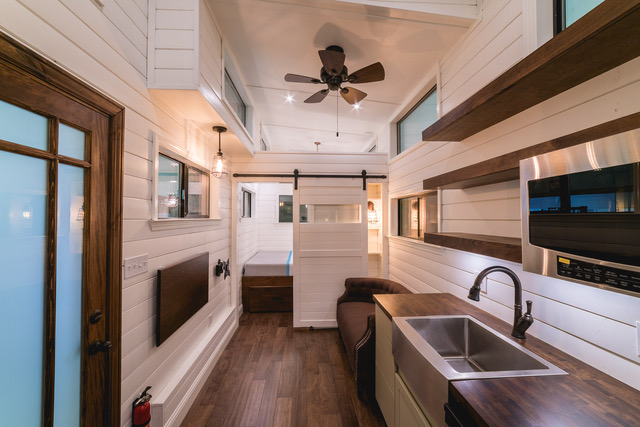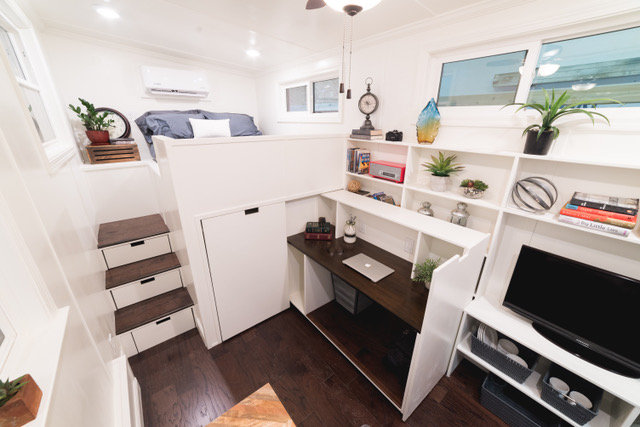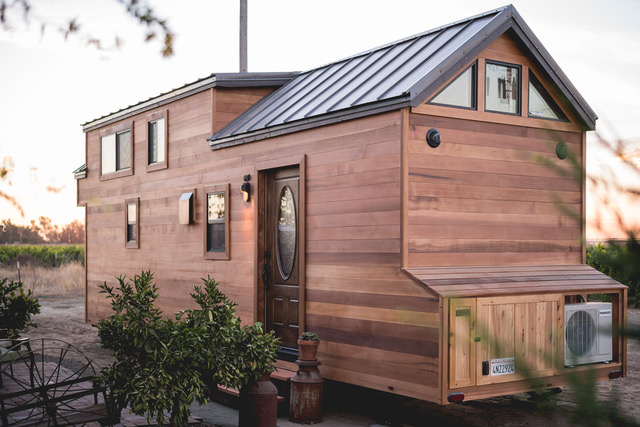 California Tiny House, Inc. - From Fresno, CA, since 2014, the Mosley family have built dozens of Tiny Homes. We build and design all of our homes in-house, and are hands on every step of the way. We are the forefront of tiny house legalization and legislature, and have been a part of some of the most groundbreaking Tiny House bills to date. We are strong advocates for Tiny House construction as an educational tool within schools. We have partnered with CTE and ROP programs throughout the state of CA, to bring Tiny House curriculum to dozens of high schools, which is growing every year. We believe tiny houses are the perfect solution to breathe life back into these programs that have nearly been lost. We absolutely love what we do and how amazing it is to build for clients excited to go tiny! Come by and say Hi, at the Tiny House Expo November 1,2,3!
Central Coast Tiny Home - specializes in single-level double-wide tiny homes. Our Corbett Canyon model was created for tiny home enthusiast seeking a roomier more livable ladder-free experience. Using our double slide-out design, this model travels on the road at a manageable 8 feet wide by 22 feet long but, once parked, expands to 15 feet wide and 290 square feet of living space on a single level. Plan on touring this model at the Fresno Tiny House Expo!
Mint Tiny House Company Since early 2014, we have completed over 100 Tiny house builds and we have grown to become one of the largest Tiny House manufacturers in the Northwest. At Mint we have been able to create the cozy feeling of home, while harnessing the benefits of a travel trailer. Each Tiny house RV is fully equipped with a spacious kitchen and high-end appliances so that while owners are living small, their appetites won't have to. We are passionate about reducing our carbon footprint and helping others to do the same. We look forward to working with you to help you make your dreams of Tiny house ownership come true. See us November 1,2,3, at the Fresno Fall Tiny House Expo!
Napier Outdoors - Can't take your SUV with you? No problem! Easily convert your SUV Tent into a transitional ground tent by unzipping the vehicle sleeve. It's that simple! No matter where you're set up, sleep blissfully and enjoy the night sky! Create the ultimate camping oasis wherever your vehicle may take you. Toyota Tacoma Truck generously provided by Toyota of Clovis!
Enter to win a Napier Truck Tent by Texting TentGiveAway to 484848 No costs and no obligations. This is a $279.99 value. Chose a tent that hooks up to a truck or hooks up to a SUV but sits on the grounds. The winner will be notified by text, and will need to supply an email address so we can send the gift certificate. The winner will order the tent that will fit their car from the Napier website. Gift Certificate must be redeemed by 12/31/19, truck not included!
Happier Camper - Ultra-Light travel and utility trailers. Retro-modern at heart, delivering affordable adventure and ground-breaking flexibility in an ultra-light package. Featuring our Adaptiv™ modular interior for maximum utility and fun. This unique trailer is inspired by classic design but packed with modern functionality. Through our rental business, we spent years reconditioning vintage trailers and taking note of the features that made them great. By adopting the best parts and adding a few new ideas of our own, we've designed and built what we think is a distinct and remarkably useful travel trailer. We've come a long way and are thrilled to share the results with you!
RAD Power Bikes -Since building our first ebike prototypes back in 2007, we've been on a mission to design, build, and support high-quality, feature-rich, affordable ebikes for the masses. We strive to provide the best experience for our entire community of ebike owners through exceptional support, expert staff, and thoughtful design. We are a group of dedicated ebike enthusiasts, product designers, and entrepreneurs with a passion for business and technology. Headquartered in beautiful Seattle, Washington, we design all of our bikes in-house and provide 100% U.S. based customer support. We are excited to be a part of the Fresno Tiny House Expo!
Cozy Rollers - is a tiny house company established in 2019. Two of our main goals when building our Cozy Rollers are comfort and mobility. We provide comfort through our space efficient design while the size of our house provides excellent mobility. At right under 120 square feet, our Cozy's are the perfect size to pick up and go at any time. Home is Where you Park it!
ModBox Life - Container recreations rooms! A cargotecture company focused on building sustainable spaces for the future. Whether a Any home, a bar or a commercial opportunity, ModBox Life can guide you as you realize your vision for a unique space. With strength, flexibility and forward-thinking architecture, ModBox Life offers creaAve soluAons for your specific needs. Call us today to discuss!
Pacifica Tiny Homes - We are a company based out of Pacifica, CA. We are dedicated to creating tiny homes on wheels at a low cost, and helping people live a simple and happy life. Many people have expressed interest in wanting their own tiny house either for themselves, family, or as an additional source of income. Due to this high interest and need, we have decided to actually begin constructing and selling tiny houses, at quality tiny houses at an affordable price.
Alternative Living Spaces Inc. - Luxury Container Tiny Homes Of The Highest Quality Design, Materials & Craftsmanship. Alternative Living Spaces is a leader in container living space. Our team has the ability to design, build and furnish the container space that is perfect for you. We can convert our containers into Tiny Homes, Retail Paces, Home Offices, Home Gyms, Mancave's and more. We'd love the opportunity to serve you in creating your dream container space!
RV Country - Will be on hand displaying the latest trend in Retro Trailers! Walk through and shop for one of your own! You won't be able to resist these charming Retro inspired trailers. No matter what you are looking for in RV's or Travel Trailers, New or Used - RV Country will help set the tone for your next dream vacation!
Forever Tiny Homes - is formally Liberty Cabins Incorporated, a well established "Tiny House" Manufacturer, with an enthusiastic following. It has always been our goal to provide multiple sizes, from small to large and within all budgets from DIY to completed units. We take pride in our craftsmanship and our quality. We hope to please the community with affordable prices, quality materials and a overall good experience. Welcome to Forever Tiny Homes, we look forward to seeing you at the Fresno Tiny House Expo!

Family Cabins - Tiny Houses are built using quality materials and fine craftsmanship, They are designed to be lived in for a lifetime and passed on to future generations. A number of floor plans are available. We would be pleased to review any designs that you have in mind. Any cabin floor plan can be built with log or conventional construction depending on the ammenities desired. We look forward to meeting with you to discuss your project at the Fresno Fall Tiny House Expo!

Natures Head® - PROUD SPONSOR OF OUR TINY HOUSE EXPO & CONFERENCE! A is self-contained toilet, urine diverting and the waterless operation allows for ease of use for many applications. Also called a dry toilet, the Nature's Head is lightweight, odorless and compact making it a perfect fit for your home, cabin, tiny house, RV, workshop, boat and survival application. This eco friendly toilet with its stainless steel hardware, robust construction and user friendliness has been designed to withstand the harshest of conditions. Made in the United States, with exceptional customer service. Come by and see for yourself at the Fresno Tiny House Expo!
New Creation Tiny Homes - The Milagro is a master crafted Tiny Home impeccably designed with style and comfort in mind, built on a 26' custom tiny home trailer. This home features a shed style roof, lots of windows, french door entry, suspended loft, floating stairs. Inside, the open floor plan combines kitchen and living under 11', 100 year old barn-wood ceilings, giving the interior a open, spacious feel with the suspended loft and floating stairs. This beautiful Tiny House includes 2 extra large lofts, full bathroom with washer/dryer, large spacious kitchen with upgraded appliances, wood cabinets, wallpaper, radiant floor heat, exterior storage. With room to sleep 4-6 and easy towing capabilities this will make a fantastic getaway home! Come out and walk thru this model at the Fall Tiny House Expo November 1,2,3!
Experience Tiny Homes - What are the top ten things you need to know before building your own Tiny Home or hiring a tiny home builder? After Lindsay and Eric's Tiny Home builder went bust on them in the middle of their build, they were faced with finishing their tiny home on their own. After a year and a half process, they learned what not to do, and how expensive it can be, relying on others for all the answers to your Tiny Home dreams. We are thrilled to take what we've learned and turn it into helping others go from Tiny Home Dreamers to Tiny Home Dwellers. We look forward to meeting you at the Fresno Tiny House Expo!
Tiny House Tool - Aesthetic of clean lines and practicality draws inspiration from nature and Mid-Century Modern architecture. Their philosophy—that your house should be a tool that enables you to live the life you want, rather than making you a slave to debt—infuses their business practices. Since 2016, founder and owner Forrest Jones has been living in a Tiny Home he designed, along with his wife Kathrina and their three children. All of his designs are predicated on having lived successfully in their first (22-foot) Tiny Home. They are excited to share their experience, and will be quick to assure you that Tiny Home living with a family is not only workable, but can be an amazing lifestyle.
Regenercrate - We take old shipping containers and transform them into unique creations. Welcome to a new world! A new beginning! Regenercrate was formed out of a passion to build, a passion to grow, and a passion to bring ugly to awe inspiring! Our goal is to help you create your place of comfort, your place of family, your place of business, and your sanctuary of peace. The sky is the limit at Regenercrate! Come see what awaits you and the limitless possibilities for your own personal space! Photos are purposely not included…come to the Tiny House Expo and be amazed!
American Tiny House Association - Our mission is to promote the tiny house as a viable, formally acceptable dwelling option. Our goal is to support tiny house enthusiasts who are seeking creative and affordable housing as part of a more sustainable and self-reliant lifestyle. We seek to represent the needs and values of the tiny house community: simplicity, sustainability, creativity, affordable lifestyle, autonomy, community, safety, inclusion, formal recognition. Our Purposes is to gather and provide information regarding the building of, and dwelling in, tiny houses. We promote a healthy social and political environment conducive to tiny house building and dwelling. We educate members regarding tiny house quality and safety, and network and cooperate with related government agencies, educational institutions, development organizations, and private industry to address these stated purposes.
If Wishes Were Horses Bus Conversion - A Bus conversion in progress! Come see how a school bus is being converted to a Home… on wheels! Couch cushion & bolsters from Etsy. Recessed and adjustable lighting in the front of the bus, as well a separate circuit in the bed area. Separate light in bathroom and over the kitchen area. A glass brick wall separates the bed from the bathroom. The Bathroom has a locking external pocket door. Full Shower & Nature's Head composting toilet. The tiny wood stove is the primary source heat. Teaming with The Yetibusbuild LLC team - Kyle & Josh Volkman and partner, Peter Klein, of Stillwater Woodworking.